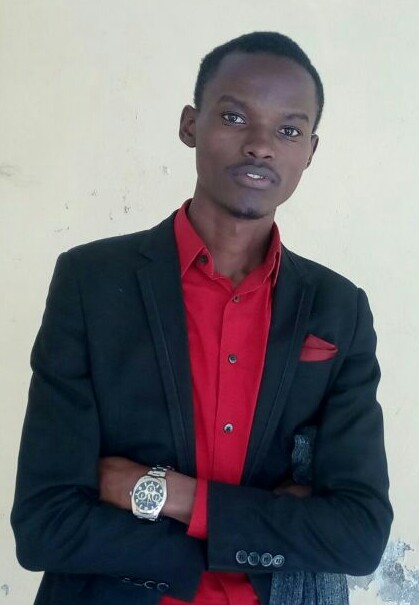 Bio Data
NAME: BUNDI DANIEL KOTONYA
DATE OF BIRTH: 17th February 1991
ADDRESS: P.O. BOX 50-40500 Nyamira
MOBILE PHONE: +254(0)-712-480-901
E-MAIL: dkbundi@yahoo.com
MARITAL STATUS: Single.
RELIGION: Christian
NATIONALITY: Kenyan
Language Proficiency: English, Swahili, Ekegusii & functional French
Educational Background
Dates: August 2017
Title of qualification: Social entrepreneurship Certificate
Sponsor: United Nations (UN)
Institution: The SME Trade Academy hosted by The International Trade Centre (ITC)
Dates: August - September 2017
Title of qualification: Engaging with the Diaspora for Trade (Certificate)
Sponsor: United Nations (UN)
Institution: The SME Trade Academy hosted by The International Trade Centre (ITC)
Dates: 2017(September) ongoing
Course title: Master of Science in Computer Information Systems (Part-time)
Institution: The Kenya Methodist University

Dates: 2010-2016
Title of qualification: BSc. Electrical and Electronics Engineering
Institution: The University of Nairobi
Dates: October 2013
Title of qualification: Diploma in Project management
Institution: ALISON (online studies)
Dates: May 2010 – to date (on hold)
Title of qualification: Bachelor of Commerce (B. Com)
Institution: KCA University. (SCHOLARSHIP)
Dates: 2009-2010
Title of qualification: Computer Programming-Web Design
Units: Hypertext Mark-Up Language (HTML); JavaScript; PhP; Dreamweaver.
Institution: African Institute of Research and Development Studies- AIRADS.
Dates: 2010
Title of qualification: Computer Proficiency (DISTINCTION)
Units: Computer Packages
Institution: African Institute of Research and Development Studies – AIRADS
Dates: February 2005 – November 2008
Title of qualification: Kenya Certificate of Secondary Education (KCSE) (A Plain)
Subjects: Mathematics, English, Kiswahili, Biology, Chemistry, Physics, Geography, Business Studies.
High School attended: Lenana School
Dates: 1997 – November 2004
Title of qualification: Kenya Certificate of Primary Education (KCPE) (Marks: 443/500)
Subjects: English, Mathematics, Kiswahili, Science, GHCRE.
Institutions: Eronge Adventist Boarding Primary School, Butiama Academy, Nyamira Primary School and St. Rufus Nursery School.
UN sponsored courses
Institution: The SME Trade Academy hosted by The International Trade Centre (ITC)
Dates: 2017
Course titles (current courses)
: IT and ITES Outsourcing: Standards and Certification
: Understanding the Role of Trade Support Institutions
Course titles (registered courses starting in SEPTEMBER)
E-Commerce for SMEs: An Introduction for Policymakers
Building Competitiveness in Trade in Services
Client Management for TISIs
Course titles (registered courses starting in OCTOBER)
Advocacy and Trade Policy Reform
Cross-Border IT and ITES Outsourcing
Embarking on a Lean Digital Transformation for Organizations
Women and Procurement
Helping SMEs Generate Export Business
Course titles (registered course starting in DECEMBER)
Adding Value to the Origin of Products through Geographical Indications (GIs)
Work Experience
March 2017 – to Date
Organization: Nairobi Industrial & Technology Park (NITP)
Position: Product & Process Engineer
A Kenyan, JKUAT University, Juja based, Electronics Assembly Company. It is a Vision 2030 flagship project under the Ministry of Industrialization, partnering with JKUAT University and POSITIVO BGH Electronics Company.
Roles: linking the Production department and the headquarter planner.
Linking the company with the Engineering department of the external supplier (OEM).
Defining the Bill of Material (BOM).
Developing the assembling process and making the SOP (standard operating procedure).
Leading the kickoff of new products (TABLETS, SOFTWARE & LAPTOPS).
Designing & testing samples and prototypes of products to be produced.
Inside the Factory, consolidating and disseminating all the information about products to be produced.
Developing the inspection process for the outsourced inspector (for the pre-shipment inspection).
Overseeing the day to day operations of the assembly Process and its implementation by supervisors, other engineers, technicians and managers.
July 2015 – Dec 2016
Organization: Softlink Kenya Tech LTD
Position: Business development & innovations Officer and Ag. CEO
A Kenyan, Nairobi based ICT Company. Specializing in providing innovative solutions for the African Masses with a keen focus on the infrastructure of the African Market.
Roles: initiate, inspect and ensure development, implementation and deployment of innovations. Lead company departments in developing and improving products for the market. Writing executive reports, overseeing investments, engagements and partnerships on behalf of the company. Overseeing day to day operations of the company.
May 2015 – to date (PART TIME)
Company: ABMO Links LTD
Position: Director in-charge of Operations
A construction company based in NAIROBI.
Role: oversee monthly company operations, engagements, ensure overall delivery of projects and inspect monthly reports.
April 2016 – Nov. 2016
Company: Blue Solutions LTD
Position: Tech Innovation Consultant
An ICT company specializing in third party services and innovation.
Role: Study and advice on new ICT markets, products and services; lead the company in establishing business models, and compiling technical reports on the feasibility and viability of select innovative ICT ventures especially on ecommerce.
May 2011 – to 2014
Organization: Federation of Women Groups
Position: Proposals officer
A Kenyan, Nairobi based Non-Governmental Organization (NGO) concerned with empowerment of Kenyan communities especially Women, both economically and socially.
Role: Draft and write proposals to donors, review proposals before submission to donors and seek funding for select projects from partners and donors.
July 2013 – to 2014
Organization: Women Democracy Network
Position: ICT Consultant
A Kenyan, Nairobi based Non-Governmental Organization (NGO) concerned with Democracy, rule of law and human rights promotion in the country.
May 2013 – to 2014
Organization: KEWENNET
Position: Associate Programs Coordinator and ICT Consultant
A Kenyan, Nairobi based Non-Governmental Organization (NGO) concerned with empowerment of women through sustainable economic activities.
January 2010 – to 2015
Company: Multicreatives LTD
Position: Chief Technical Officer
An IT and online Resource Creation and Management Company based in Nairobi, Kenya. An authority in soft design.
May 2009 – January 2010
Business: Danco
Position: Operations Coordinator
A computer based design business and bureau, specializing on graphic design and printing. Later became Multicreatives.
Early 2009
Institution: Eronge Secondary School
Position: Untrained teacher
A local Public Secondary School in Nyamira County.
Proficiency and Technical skills.
I am proficient and have functional technical skills in the following platforms, Programming languages, frameworks and softwares:
HTML, XHTML, XML
CSS
PhP
JAVASCRIPT
jQuery
JAVA
Adobe DREAMWEAVER
YII FRAMEWORK
CODE IGNITER
LARAVEL
SCADA
ARDUINO
AUTOCAD
MERCURIAL and GITHUB
MICROSOFT NAVISION
Python
Android studio
Perl
GIS
Ruby
SPSS
SEO
Construct 2 Framework
Stripes Framework
Photoshop
Microsoft Dynamics Axapta/eCTRL
SQL
MATLAB
LAN & WAN installation & configuration
PABX installation & configuration
Electrical installation
Electronic fabrication
WordPress
Drupal
Joomla
Networking (CISCO)
Solid works
Flash
IPv6 configuration
DELPHI
Innovations & Ownership
Design, Creation and development of the Hybrid County Revenue Collection System (THE HCRCS); an overhaul system designed to manage the entire revenue collection sector in the country, with a special focus on the counties.
Naiacademy: a web based online school with among many features, has realtime tutor interaction with the students.
Naiboard: Nairobi noticeboards. Digitizing all notice boards and availing their content on the web. With plugins such as the Nairobi reception, city monitor, Naifoods, Naimall etc.
Design, development and maintenance of the 'MEETMEKENYA PLATFORM'; an online platform that was instrumental in the promotion of peace, patriotism, unity and cohesion in Kenya, profiling of Kenyan leaders, and the promotion of NCIC, IEBC and TJRC among Kenyans that had access to the internet.
Design, development, maintenance and management of the 'E-Hub PLATFORM PROJECT'; an online based educational platform aimed at revolutionizing academic excellence in Kenya by providing relevant assorted educational material online from Primary level to University Level.
E-commerce platforms such as Littlepink and Top fashion.
Career and Professional Achievements/engagements
Registration of a revolutionary ICT literary copyright work (registration number: CR. 0011029) by age 21christened the MEETMEKENYA Platform which aimed at promoting peace and cohesion among online Kenyans.
Designing the Taifa V2 laptop under the vision 2030 project, implemented by JKUAT Industrial & Technology Park, a Kenyan electronics assembly company, while serving as the 'Product & Process Engineer' for the JKUAT-ITP.
Designing, developing and documenting the JEDU-HUB system to be implemented by the JKUAT-ITP.
Writing and presentation of an ICT perspective paper on request, to the IEBC in the run-up to the 2013 national elections on the most effective and evolutionary approaches for the commission to reach the masses through digital media with a special focus on the youth (presented approaches were implemented).
Enabling the Nyamira County team set up structures in the departments of ICT, Education, Trade and industrialization.
Writing professional and policy papers on ICT infrastructures, technology, digital elections, energy, e-commerce perspectives and approaches, automation, innovation and digitization of African counties, national governments, businesses and entire sectors among others.
Marketing the NCIC, IEBC and national political parties and candidates pro bono through a wider MeetMeKenya initiative between 2012 and 2013.
Consultancy services on online strategies to several political candidates and a national political party pro bono.
Starting and maintaining, among many others, a moderate home-county page the "Nyamira county idea center" in conjunction with a close associate and starting and maintaining a national Facebook page "Our heroes and heroines" aimed at identifying and appreciating national unsung heroes and heroines in all sectors across the country and spreading the culture of heroism and patriotism among Kenyans by inspiring selfless and outstanding acts for humanity.
Consultancy on online presence and its influence on public opinion for individual Kenyan dignitaries to specific private and public ends.
Setting up an innovation-oriented ICT business at age 19 with an office in the Nairobi CBD and registering it 2 years later in Kenya as a 'private business' (under number BN/2012/183440).
Designing and running a successful E-County project under my ICT business name, Multicreatives with platforms such as E-HUB and E-COUNTY among many others.
Working as an ICT technical implementing consultant for an established Kenyan NGO –Federation of Women Groups - and established Kenyan businesses namely, KEWENET and Oasis Real Estate Managers.
Working with the ministry of GYSCSS of Nyamira County to help get a flagship youth savings institution (now a fully registered Sacco) to its feet by giving ICT solutions pro bono before it got registered as a SACCO.
Taking part in several global ICT policy functions.
Initiating and championing 'Ubuntu Online', a young ICT Project aimed at getting establishments in Africa online, for the greater Africa to enjoy the privileges and business opportunities that come with having access to online space and resources.
Starting and maintaining for a period two online article sites, 'the edict' and the 'gusii fiat'. Aimed at catalyzing objective thinking among online Kenyans on issues affecting them.
Running a paid internship for fellow students over the years, during my holidays, in my businesses, aiming at helping them acquire solid skills in the telecoms, ICT and engineering markets.
Developing over 26 well documented innovations, majority of which are fully developed in the technical phases and business models.
Incubating and training several Kenyan youths in software development and ICT business approaches.
General Achievements
June 2011 – 2012: Part of a team that successfully revived the Engineering Students Association-ESA, Kenya Chapter, as the only first year student and the most depended upon team member.
2012: Taking part in a prestigious Canadian University-Carleton University-research project titled: 'Constructing Whiteness and Location Power in East Africa: Desirability, Racialization and Status of 'Others' with Access'.
2011: Being chosen to represent fellow students in the University of Nairobi to the biggest IT and Innovation based forum in East Africa.
2011: Being part of the University innovation team with the responsibility of
Designing and constructing robots, among many others, in FABLAB NAIROBI.
2010: Starting a successful businesses with an office in the Nairobi CBD at the age of 19.
Continuous: Getting admission on scholarship based on academic merit and Competitive engagement to prestigious Institutions such as Midrand Graduate Institute in South Africa, KCA University-Vice chancellors Scholarship, and AIT-Ufunguo Scholarship.
2008: Being among the best students in KCSE Nationally.
2005-2008: Representing my House at Lenana School as a sportsman in athletics, cricket, rugby and football, with great performance in the competitions.
2004: Being among the top 100 best pupils in KCPE Nationally.
Leadership Undertakings
June 2013 – to date: Assistant Secretary General of the Eronge Adventist Boarding Primary School Alumni Association.
2011: Engineering Students Association (ESA) Editorial Board Member.
2009: Youth Church leader at Nyabite SDA Church.
2008: Coordinator of the Lenana School SDA Group.
2005: Dining Hall Official at Lenana School.
PERSONAL ATTRIBUTES and CAPABILITIES:
Organizational and Social Skills
High personal integrity and trustworthiness
Emotionally mature calm and composed.
Reliable leadership qualities and skills.
Detailed, precise and thorough. Emphasis in achieving accurate results as effectively and efficiently as possible.
Reliable, dependable and creative problem solver. Use of critical thinking and logical analyzing skills to achieve set objectives.
Refined verbal and written communication skills.
Outstanding interpersonal and organizational skills.
I have a positive, and fairly flexible attitude.
RÉSUMÉging
Animation
Photography
Social Media
HOBBIES:
Playing Chess
Athletics
Programming
Brainstorming
Travelling.
Making friends.
REFEREES:
Chief Technical Officer,
ABMO LINKS LTD.
Cell: +254(0)-726541031
CEO,
Resilient Technologies,
Cell: +254(0)-723207615
Legal Officer
Multicreatives Ltd.
Cell: +254(0)-702-628-333
Federation of Women Groups,
NAIROBI, KENYA
Tel: +254(0)-723100382